Job Placement Class for Science and Engineering Student
Become a Japanese-speaking engineer and
Become a manufacturing professional!
In this class, students will develop high level Japanese language skills which is JLPT N2 level or above and study business etiquette and business communication skills to get a job placement in Japan.
In the region where our school is located, there are many companies, mainly in the manufacturing industry,
which we work closely with. For that reason, we can introduce those companies who understand foreigners and give you a nice environment to work in. Do you want to become highly skilled engineers?
Do you want to learn Japanese technology and make use of it back in your home country?
Do you want to live permanently in Japan?
Let us help you to make your dream come true!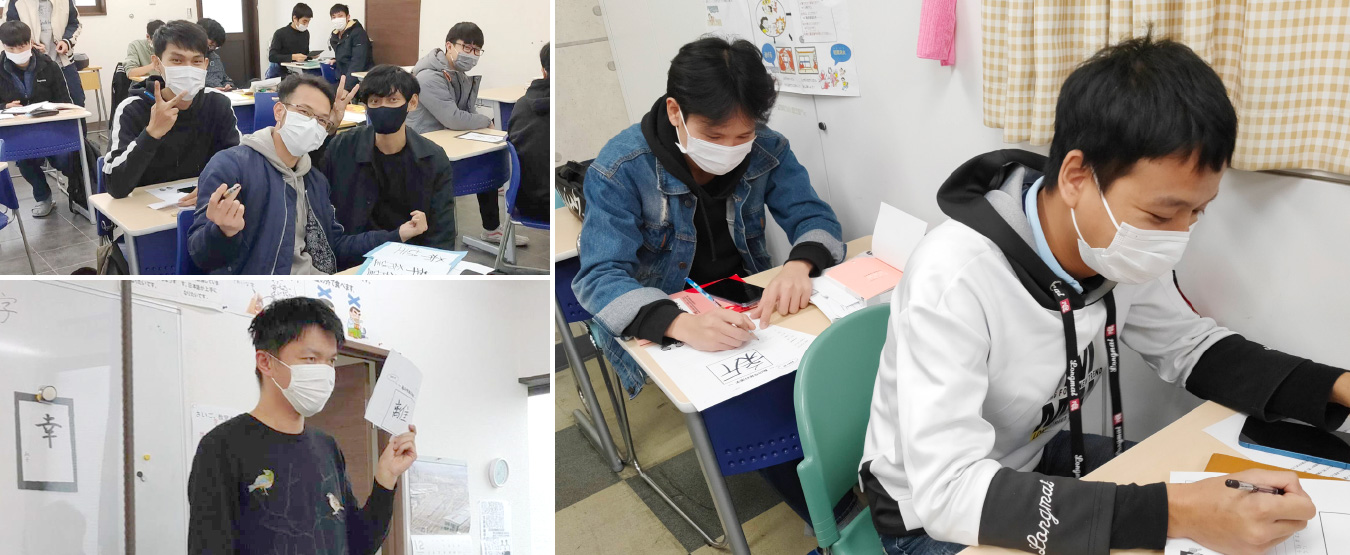 Class Outline
We provide you the tailored guidance to each students for necessary job hunting skills, such as resume writing and interview practice, which are unique to Japan
You can learn about the customs and business etiquette of Japanese companies
First of all, you can work part-time while you are studing at school to understand the job and experience the work environment
No first-year tuition fees due to scholarship scheme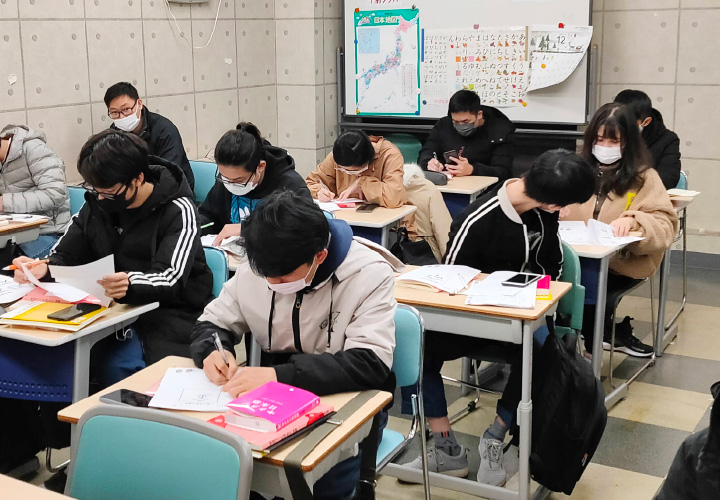 Class Information
Who may apply

Those who have completed 16 years of schooling in their home country and wish to work in a Japanese company
Those who are graduating from a four-year science or engineering university in their home country

Type of Visa required

Student visa

School admission period

April, July, October, January

Class duration

April admission: 1 or 2 years
July admission: 1 year and 9 months (or 21months)
October admission: 1 year and 6 months (or 18months)
January admission: 1 year and 3 months (or 15 months)

Class dates

5 days a week. Monday to Friday

Class hours

AM class or PM class

9:00 to 12:30 (1 class 45mins ×4)
13:30 to 16:55 (1 class 45mins ×4)

*Decided at school' s discretion
Curriculum
Elementary level
Review of elementary level
Lower intermediate
Intermediate
Japanese: N2 level in 2 years
Understanding and acquisition of Japanese culture,
custom and manners
Adults basic skills: Business Japanese,
Business manners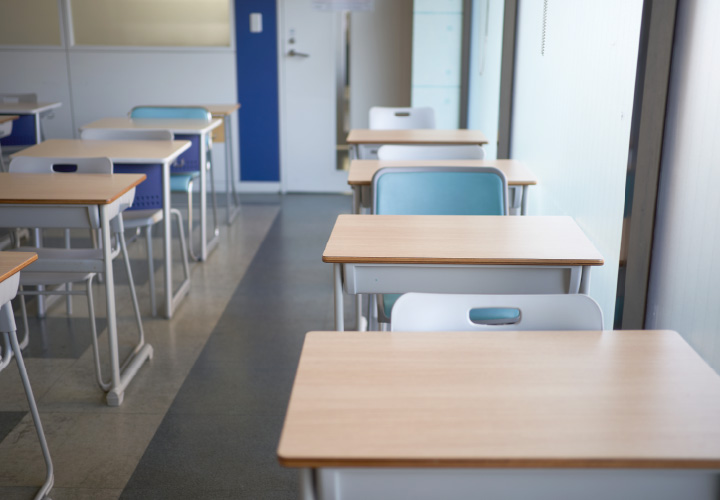 Support
Student individual interviews
Training on resume and CV writing
Interviews training
Attend job interview events
In-house job fair
Work place

(company)

experience
Internship
Job Placement Class for Specified Skilled Workers
We provide you the all support not only studying but also the follow-ups after you start woking!
You need a minimum Japanese skill of JLPT N4 level to obtain a visa for specified skilled workers.
There are 14 different specified industry fields and you need to pass the exam of the each specified fields.
At our school, you will not only learn how to prepare for each of these exams, but also the bussiness etiquette and the communication skills to work with the Japanese to work smoothly and effectivly.
We will introduce you to a variety of jobs, including car maintenance, food service and food manufacturing.
In addition, the school's staff will support you after graduation, so you can work with peace in mind.
Class Outline
We provide you the tailored guidance to each students for necessary job hunting skills, such as resume writing and interview practice, which are unique to Japan
We provide you the all study support and preparatory classes to pass the exam of the each specified fields
First of all, you can work part-time while you are studing at school to understand the job and experience the work environment
Reduced first-year tuition fees due to scholarship scheme
You can receive a scholarship of 600,000 yen for the specified field of auto mechanics. Repayment is waived after obtaining the class 2 auto mechanic license and working for three years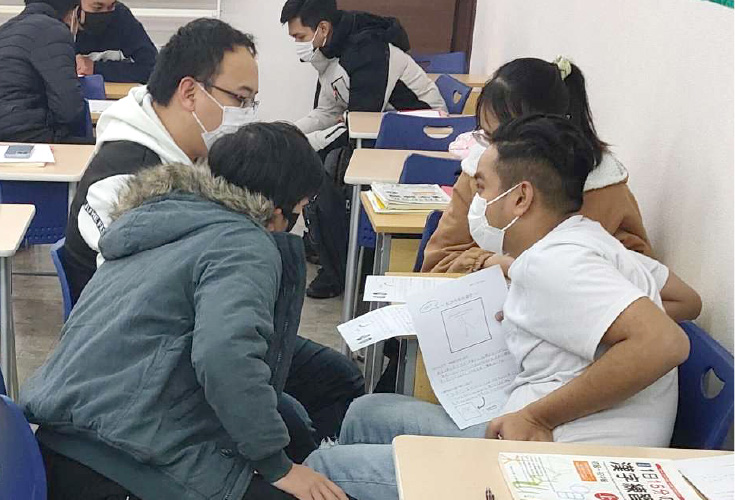 Class Information
Who may apply

No educational requirment, but the applicant must have a certain level of learning ability, e.g. at least 12 years of education in his/her home country

Type of Visa required

Student visa

School admission period

April, July, October, January

Class duration

4April admission: 1 or 2 years
July admission: 1 year and 9 months (or 21 months)
October admission: 1 year and 6 months (or 18 months)
January admission: 1 year and 3 months (or 15 months)

Class dates

5 days a week. Monday to Friday

Class hours

AM class or PM class

9:00 to 12:30 (1 class 45mins ×4)
13:30 to 16:55 (1 class 45mins ×4)

*Decided at school's discretion
Curriculum
Elementary level
Review of elementary level
Lower intermediate
Intermediate
Japanese: N2 level in 2 years
Understanding and acquisition of Japanese culture,
custom and manners.
Adults basic skills: Business Japanese,
Business manners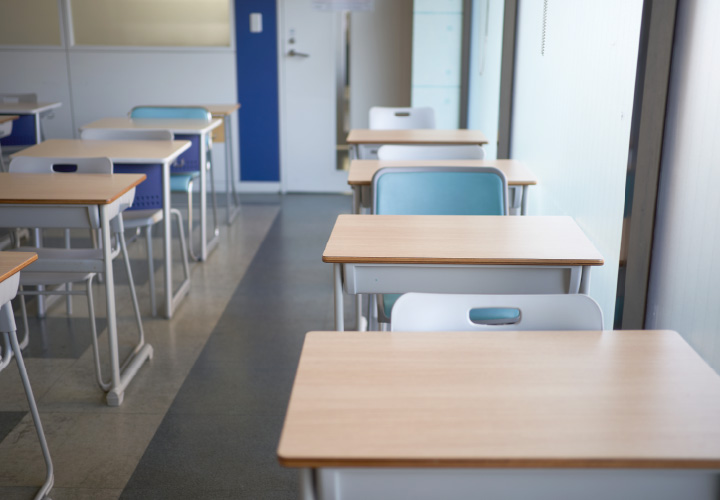 Support
Student individual interviews
Training on resume and CV writing
Interviews training
Attend job interview events
In-house job fair
Work place

(company)

experience
Internship